One Shots Comics And Books
Holyoke One-Shot

Online:
10 Books
Publishing History
Issues:
10
From:
1944
To:
1945
Seq:
1 - 10

Publisher:
Holyoke
Description:
(1944 series) 1944-1945 Issues - #1-10 Note- Series title comes from Overstreet Comics Price Guide. Each issue is individually titled but sequentially numbered. Contents are reprints of issues published by some of Frank Z. Temerson's earlier companies such as Helnit Publishing Co. and Tem Publishing Co. Artists on this title include Irwin Hasen, Pagsilang Rey Isip, more...
Serenata

Online:
19 Books
Publishing History
From:
1959

Publisher:
Spanish Language Books
Description:
Weekly romance series for young Spanish ladies, published by Ediciones Toray, Barcelona. 1959. As additional appeal, the words to 3 popular songs are included, plus a photo of the artist on the back page.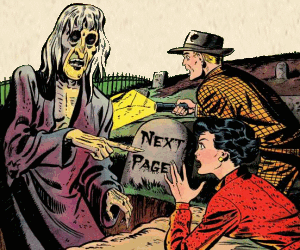 Disclaimer:
If you have come to this site to find pirated or illegal material, you will be disappointed! We only hold comic books and images that are in the Public Domain. If you suspect that any of our content may be infringing copyright, then please use our
contact page
to let us know. So we can investigate further.