Recent Posts
1
on: April 27, 2017, 09:00:02 PM
Started by Superman - Last post by Superman
The Lesson I Learned of Love - art looks like it's by John Forte.
Link to the book:
Exotic Romances 29
3
on: April 27, 2017, 04:00:03 PM
Started by crashryan - Last post by crashryan
Sloppy--in page 66, panel 2, the artist stripes The Zebra's legs, which are bare elsewhere.
Link to the book:
Green Hornet 07
4
on: April 27, 2017, 11:50:00 AM
Started by MarkWarner - Last post by MarkWarner
I think it is fair to say (barring a little bit of dissension). that last week's Walt Kelly fest could be marked down as one of our better reads.
But let us not dwell too much on our success and move swiftly on to this week's book. It features a character who is well overdue a reading group visit. Star of the silver screen, television, radio and of course comic books, I give you The Green Hornet (and of course his trusted servant Kato).
I chose the earliest issue from Harvey's Green Hornet Comics title. The story we will concentrate on is
"The Case of the Murdering Clown"
The book (scanned by our very own Narfstar) can be found here
http://comicbookplus.com/?dlid=31005
.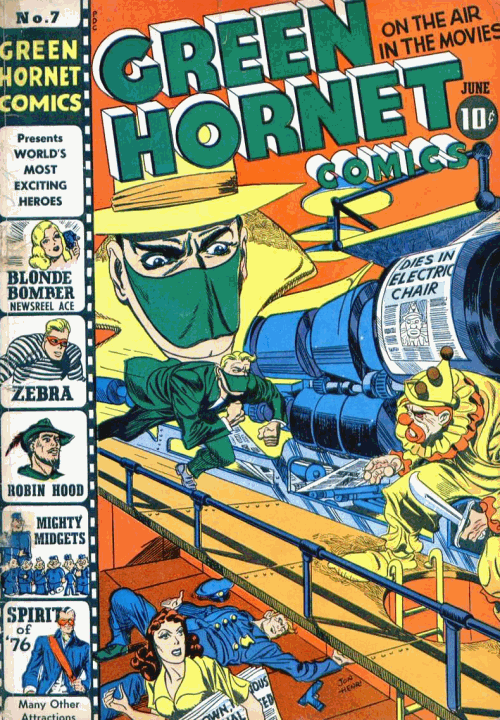 5
on: April 27, 2017, 01:52:27 AM
Started by josemas - Last post by narfstar
I finished Chuck Dixon's second Hard Times book and immediately bought the third. I don't like time travel where the past/present/future can be changed. He does in a reasonable way. I have started Chris Nigro's Dargolla
9
on: April 25, 2017, 10:30:04 PM
Started by David Miles - Last post by David Miles
The previous two comments above really does say it all. However, here's my two cents worth. The genre of supernatural / horror is my favorite format in comics. This one is most certainly one of the very best, art, stories first class throughout. I've added my 10 to the previous five members ratings, all 10 and well deserved.
Link to the book:
Fantastic Fears 2
10
on: April 25, 2017, 06:51:02 PM
Started by josemas - Last post by bowers
Had a very long weekend so I've been catching up on my Brit comics. A good friend found me another picture library comic, and I enjoyed it so much I had to read several issues I had downloaded but not yet read. Time well spent. Cheers, Bowers