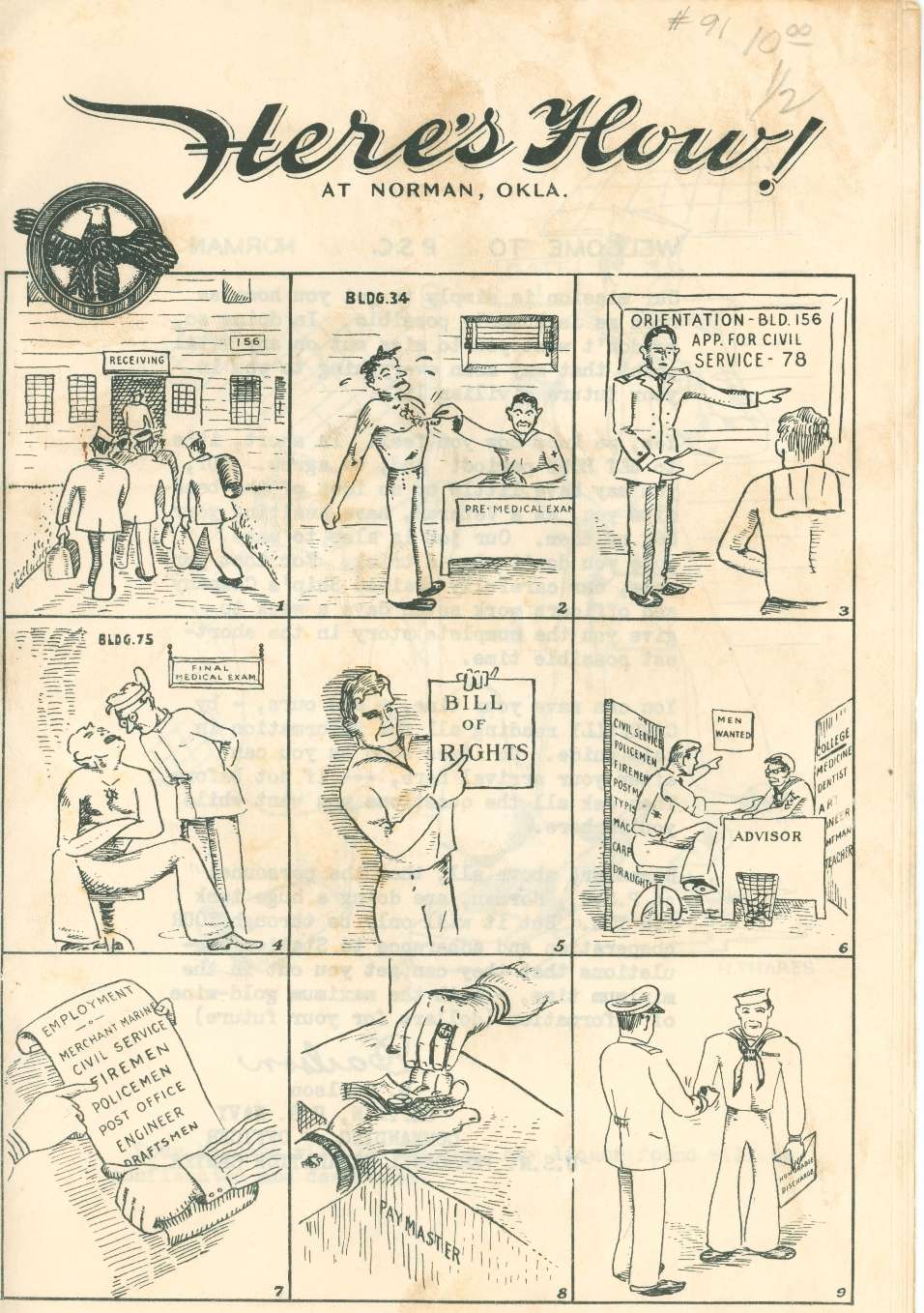 Additional Information
WELCOME TO P.S.C. NORMAN

Our mission is simple to get you home as soon as is humanly possible. In doing so, we don't want you to miss out on any vital point that may mean everything to you in your future civilian life.

Yes, we know how you feel. In short, it's to GET HOME period! And, we agree. BUT, you may have little or no idea of the benefits you, as a Veteran, have awaiting your USE of them. Our job is also to make sure you don't miss a trick. For that purpose, our carefully trained Ship's Company and officers work seven days a week to give you the complete story in the shortest possible time.

You can save your time, - and ours, - by CAREFULLY reading all the information in this guide. Do it as soon as you can after your arrival here, --- if not before. Then ask all the questions you want while you're here.

Remember, above all, that the personnel at P.S.C., Norman, are doing a huge task FOR YOU. But it will only be through YOUR cooperation and adherence to Station regulations that they can get you out in the minimum time, - with the maximum gold-mine of information (dollars for your future).



D. Carlson
CAPTAIN, U.S. NAVY
COMMANDING OFFICER
U.S.N. PERSONNEL SEPERATION CENTER

3
Your baggage will be checked, Any liquor found will be confiscated and destroyed.
4
Seventy two (72) Hours and you will be a civilian. No uniform of the day. No working parties. No Liberty except in extreme emergency.
5
The man in charge of the draft will report with Orders for all men in his charge to the OOD's Office, Bldg. 77. Next the man in charge will report to Records Receiving, topside Bldg. 156, with Orders and Records for his men.
6
So you missed chow! All hands stand by on the grinder. The man in charge will make arrangements with the OOD in Building 77, for some good Navy chow in Bldg. 38. After 2200, chow will be served on the hour - 2200, 2300, 0100 etc. As soon as you have finished chow report back to Building 156 without delay.
7
Follow your records topside Bldg. 156. Here a Group Leader will be assigned. Know your Group. Group Leader's name: __________ Group No.___
8
After being assigned to a Group you receive a Pre-Medical examination in Building 34. Don't try to hide anything. This Pre-Medical is followed by a complete physical the next day in Building 75.
9
The Orientation lecture, on lower deck Bldg. 156, is where you get all the dope for an easy cruise through the Separation Center. You will also see a swell picture by Benchley. S'IAY AWAKE -- TAKE NOTES -- ASK QUESTIONS.
10
You can get your blues cleaned and the Discharge Emblem sewed on in Building 78 (lower deck) for free. The Group Leader will give you a chit for free haircut and shoe shine (building 25) also a chit entitling you to buy socks, scivvies, etc. at Building 113.
11
Map of the Building
12
Our Recruiting Unit is well staffed and prepared to assist in every way. Actual discharge and re-enlistment can be effected in twenty-four hours. Some of the benefits:


Your temporary rate made permanent.
Mustering out pay in lump sum.
Fifty dollars re-enlistment pay for each year served.
Up to 6o days leave with travel time.
Paid transportation at rate of five cents per mile.

A group speech and individual interviews concerning the peacetime Navy will be offered you. Also, you will be acquainted with the available Civil Service positions at the Separation Center and application blanks may be had upon request.
13
List of Recreational Facilities
14
Civil Readjustment commences with Orientation in Building 156. Next in Building 19 you are introduced to your rights and benefits with talks and film strips.
THE NUMBER OF QUESTIONS YOU ASK, THE INFORMATION YOU GATHER WILL IN NO WAY HOLD UP YOUR BEING DISCHARGED WITHIN THE ALLOTED TIME.
15
You will be paid topside Building 76. You will receive: (a) One Hundred dollars of your mustering out pay by check (the balance will be mailed to you). (b) Five cents per mile travel allowance from Norman to the place of your acceptance for enlistment. or (if you were in the inactive reserve) the place where you received orders to active duty. (c) All back pay and allowances and any part of a War Bond allotment.
16
That little *White Piece of Paper* will become yours in the Auditorium in Building 77. We all hope you enjoyed the short stay. All hands are working hard for you and deserve your co-operation. The best of luck to you, mate.
17
Complete telephone service 0800-2200 daily topside Bldg. 77. Be sure you have passed your final physical exam and your records are all squared away before you make definite plans for your family to take you home.
18
You are permitted to have visitors aboard. You can take them to Ship' a Service Stores, movies or Separatee lounge, topside Bldg. 77. They are permitted to remain aboard until 2130.