Crime Comics And Books
Startling Detective
Publisher:
Crime and Detective
Description:
Also known as Startling Detective adventures, a crime story pulp series, published by Fawcett. DO NOT UPLOAD ANY OF THESE AFTER VOL 43 (1952)
Startling Terror Tales

Online:
9 Books
Publishing History
Issues:
8
From:
Apr 1953
To:
Nov 1954
Seq:
4 - 11

Publisher:
Star Publications
Description:
(1952 + 1953 Series) May 1952 - 1954 v1- Issues published - 10-14 v2- Issues published - 4-11
T-Man

Online:
38 Books
Publishing History
Issues:
38
From:
Sep 1951
To:
Dec 1956
Seq:
1 - 38

Publisher:
Quality
Description:
Target Comics

Online:
1 Book
Publishing History
Issues:
7
From:
1952
Seq:
1 - 7

Publisher:
L. Miller & Son
Description:
British reprint. 1952 by L. Miller & Sons Ltd. London. Colour Cover, b&w interiors. The British guide suggests this series ran from #1 to #6, but as is obvious, this is #7. As is common, theses comics are often badly printed and trimmed and this example is no exception.
Ten Detective Aces
Publisher:
Crime and Detective
Description:
Published initially monthly then subsequently bi-monthly by Magazine Publishers Inc. (A Division Of Ace Comics) based in Springfield, Massachusetts. Preceded by The Dragnet Magazine which ran for 16 issues (Oct 1928 - Mar 1930). It then was renamed Detective Dragnet which ran for 25 issues (Apr 1930 - Dec 1932). It finally became Ten Detective Aces which ran for 161 issues more...
The Thriller

Online:
176 Books
Publishing History
From:
Feb 1929
To:
May 1940

Publisher:
British Story Papers
Description:
British weekly 'pulp' featuring well written and illustrated, fast moving and atmospheric crime and mystery stories. Some well known authors and characters appeared in The Thriller incl. The Saint, Shadow, Blackshirt, Mr. Preed, J.G. Reeder. Writers incl. Charteris, Horler, Douthwaite, Edmund Snell, GH Teed, Barry Perowne, John G. Brandon, Anthony Skene. The covers were often more...
True Detective Mysteries
Publisher:
Crime and Detective
Description:
True Detective Mysteries began publication in 1924, similar in format to True Story, also published by McFadden. The 'True' in both titles was false advertising; most of the stories were simply fiction and illustrated using posed models. True Detective Mysteries switched primarily to true crime articles by 1930. Also know later as just True Detective.
Underworld

Online:
9 Books
Publishing History
Issues:
9
From:
Feb 1948
To:
Jun 1949
Seq:
1 - 9

Publisher:
DS Publishing
Description:
(1948 series) 1948 - June-July 1949 Issues - #1-9 Artists on this title include Ann Brewster, Al Camy (Cammarata), Graham Ingels, Shelly Moldoff & Louis Schroeder
Vic Flint

Online:
2 Books
Publishing History
Issues:
2
From:
Aug 1948
To:
Oct 1948
Seq:
1 - 2

Publisher:
St. John
Description:
War On Crime

Online:
10 Books
Publishing History
From:
May 1936
To:
Jan 1938

Publisher:
Newspaper Comic Strips
Description:
War on Crime was conceived, at least in part, by none other than FBI director Edgar J. Hoover, who intended it as a public relations exercise. It was designed to counteract the current portrayals of G-men as lone mavericks. Instead, the strip showed the FBI as a formidable and well-oiled organization that was under the direct control of the director. The strip launched on May 18, 1936 more...
The Wizard

Online:
250 Books
Publishing History
From:
Sep 1922
To:
Nov 1963

Publisher:
British Story Papers
Description:
One of the Big Five boys' story papers from D.C. Thomson. Featuring illustrated stories of adventure, sports, schooldays, crime, s.f. plus jokes. This paper ran from Sep 1922 for 1970 issues. The run ended in Nov. 1963. They bear no relation to the American pulps or, in fact, the British pocket libraries. They are in a class of their own being anthology story papers which more...
Xuxa

Online:
23 Books
Publishing History
From:
1951

Publisher:
Portuguese Language Books
Description:
Brazil. 1951. Striscia/piccolo. Published by, Casa Editora Vecchi, Ltda, Rio de Janeiro. With thanks to, http - //cheguavira.blogspot.co.uk/
Yarko the Great Archives
Publisher:
Comic Book Compilations
Description:
Yarko The Great first appeared in Wonder Comics #02 (June 1939) published by Fox Publications. He was created by the legendary Will Eisner. Wonder Comics was renamed Wonderworld Comics for issue #03. Yarko The Great appeared in all of the issues (#03-33). He made further appearances in The Blue Beetle #01 and Samson #04-05. Yarko The Great was a stage magician with real magical more...
Young King Cole

Online:
23 Books
Publishing History
Issues:
23
From:
1945
To:
Jul 1948
Seq:
v1 1 - v3 12

Publisher:
Novelty Press
Description:
(1945 series) Fall, 1945 - July 1948 Issues - 23 (V1#1 - V3#12) Tracking - Numbering continues as CRIMINALS ON THE RUN (Novelty Press, 1948 series). Artists on this title include Nina Albright, Wayne Boring, Joe Certa, L.B. Cole, Harvey K. Fuller, Hy Gage, Will Hammel, Milt Hammer, Art Helfant, Al McWilliams, E. J. Reeves, Janice Valleau, & Jim Wilcox
Zaza

Online:
2 Books
Publishing History
Issues:
2
From:
Apr 1956
To:
Sep 1956
Seq:
10 - 11

Publisher:
Charlton
Description:
El Zorro
Publisher:
Spanish Language Books
Description:
Yet another version of Zorro. This time a Spanish version published by Exclusivas Ferma, Barcelona.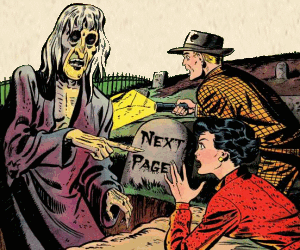 Disclaimer:
If you have come to this site to find pirated or illegal material, you will be disappointed! We only hold comic books and images that are in the Public Domain. If you suspect that any of our content may be infringing copyright, then please use our
contact page
to let us know. So we can investigate further.