Non-fiction Comics And Books
Alphabet Books
Publisher:
Odds And Ends
Description:
Welcome to a rather wonderful little section of our site, in which we are building a cool collection of alphabet picture books, most of which feature great art. For most of us an ABC book was where we first began learning to read, and so it has been for many generations. However, times change and some of the art and verse in these books are most certainly not suitable for children more...
Cavalcade

Online:
90 Books
Publishing History
From:
1941
To:
1969

Publisher:
Newspapers and Magazines
Description:
Australian men's magazine that began in the early 1940s during WWII. The book started out with some fairly serious subject matter as much of the features had to to do with the war. The early cartoons and gags were also benign at first. As time went on the magazine became more risque both in cartoons and in the lurid/sensational text stories. Some issues featured the well more...
Collier's Weekly
Publisher:
Newspapers and Magazines
Description:
Collier's is an American magazine, founded in 1888 by Irish immigrant Peter F. Collier (1849-1909). As a result of Peter Collier's pioneering investigative journalism, Collier's Weekly established a reputation as a proponent of social reform. When attempts by various companies to sue Collier ended in failure, other magazines became involved in what Theodore Roosevelt more...
Heroines Showcase
Publisher:
Fanzines
Description:
This fanzine contains artwork by Trina Robbins, Dick Giordano and others. Publications without a copyright through February 1989 are public domain.
Marvels of Science

Online:
4 Books
Publishing History
Issues:
4
From:
Mar 1946
To:
Jun 1946
Seq:
1 - 4

Publisher:
Charlton
Description:
(1946 Series) March 1946-June 1946 SERIES COMPLETE Issues published - 1-4 Artists on this title include Herbert C. Browner, Sid Greene, Art Helfant, George A. Marko & Robert Sanders
Meccano Magazine

Online:
8 Books
Publishing History
From:
1916
To:
1981

Publisher:
Newspapers and Magazines
Description:
Meccano Magazine was an English monthly hobby magazine published by Meccano Ltd between 1916 and 1963, and by other publishers between 1963 and 1981. The magazine was initially created for Meccano builders, but it soon became a general hobby magazine aimed at 'boys of all ages'.
Model Fun

Online:
3 Books
Publishing History
Issues:
4
From:
1954
To:
1955
Seq:
2 - 5

Publisher:
Centaur Publishing
Description:
Model Fun was published by Harle Publications which was owned by Joseph J. Hardie and Raymond Kelly, who were also the owners of Centaur Publications, As only 4 comics (all in the Model Fun Series) were published by Harle it makes sense to put them here.
Private Lives

Online:
4 Books
Publishing History
From:
1938
To:
1948

Publisher:
Newspaper Comic Strips
Description:
The full title for this series is - 'Private Lives by Edwin Cox. Candid Cartoons of the World's Celebrities. The Unconventional News of the News-names'. It was syndicated to American newspapers by Edwin Cox and Jack Bliss from November 1938 to May 1943. Jack Bliss was the artist for the complete series. Usually appearing in the Sunday Comics section, it consists of a single more...
PS Magazine (PS, The Preventive Maintenance Monthly)

Online:
103 Books
Publishing History
From:
Jun 1951
Seq:
1 -

Publisher:
Military Information And Humor
Description:
PS Magazine was launched in 1951 and is still being published today. Although not strictly a comic, it was created by a true comic book great, Will Eisner. Eisner had already found success with 'The Spirit' newspaper insert when, during World War II, he was drafted into the Army. There he worked on publications, creating a hapless and incompetent character named Joe Dope. With more...
Real Life Comics

Online:
61 Books
Publishing History
Issues:
59
From:
Sep 1941
To:
Sep 1952
Seq:
1 - 59

Publisher:
Better / Nedor / Standard / Pines
Description:
(1941 series) September 1941 - September 1952 issues - #1 - 59 Notes - Standard imprint on covers of #48-59. Artists on this title include Joe Archibald, Rafael Astarita, Ken Battefield, Pete Costanza, Bill Elder, Max Elkan, George Evans, Frank Frazetta, August Froelich, Fred Guardineer, Maurice Gutwirth, E. R. Kintsler, Dan Loprino, Mort Meskin, Charles Quinlan, William more...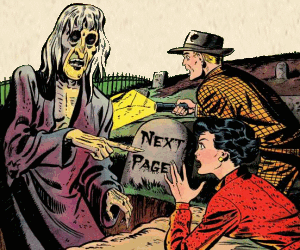 Disclaimer:
If you have come to this site to find pirated or illegal material, you will be disappointed! We only hold comic books and images that are in the Public Domain. If you suspect that any of our content may be infringing copyright, then please use our
contact page
to let us know. So we can investigate further.